This is an old family recipe belonging to Siaan, one of the Directors of The Biltong Shop.
We would love you to try it and let us know if you enjoyed it!
Ingredients
500ml plain flour
5g baking. powder
3g bicarbonate of soda
5g salt
5g dry mustard powder
50g finely grated biltong
125g finely grated biltong (or finely chopped)
125g cheddar cheese
150ml plain yoghurt
150-180ml milk
1 egg
30ml Worcestershire sauce
45ml grated biltong
60g grated cheese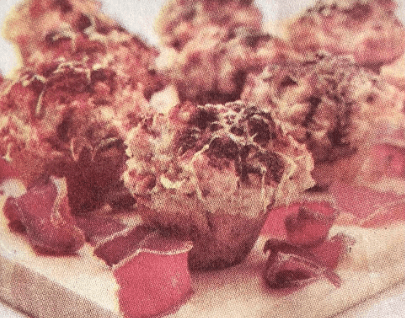 Method
Combine the flour, baking powder, bicarbonate of soda, salt, mustard, biltong and cheese in a bowl
Mix the oil, yoghurt, milk, egg and Worcestershire sauce together.
Add all the dry ingredients, using extra milk if necessary to make a batter.
Spoon into 24 greased mini muffin cups and sprinkle a little grated biltong on top of each muffin
Bake at 200C for 15 minutes
Remove from the oven snd sprinkle over the extra grated cheese and return to the over for another 5-10 minutes
Remove and serve warm
Enjoy!
— Siaan & Team